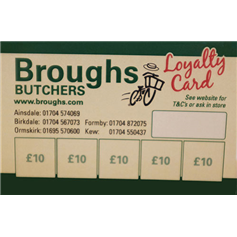 Customers may apply for a Loyalty CARD by completing an appplication envelope in any of our shops or register online at www.broughs.com
Broughs Butchers will contact applicants by email to inform them when their new Loyalty Card might be collected from a shop.
Customers may collect up to a maximum of 500 points on their card. After 500 points have been accrued, the completed card can be redeemed for a credit of £10.00 against the customer's next purchase.
Broughs Butchers REWARD CARD offers one of the best value points based reward schemes currently available on the high street. Check out the terms of your other reward cards from the big supermarket groups and you will find that in order to get £10 credit you may have to spend over £1,000 in store.
Web Rewards
We are delighted to announce that our On-Line customers may also apply for a Loyalty Card. Customers issued with Loyaty Cards will recieve a number of stamps with each order delivered to them. The number of stamps awarded will relate to the overall value of the order in increments of £10.
Terms & Conditions of use
An email will be sent to each customer to confirm that their card is ready for collection at the shop where application for the Loyalty Card was lodged.
A maximum of 500 points can only be redeemed against the cutomer's next and separate transaction.
The card may be used by the card holder or any another person holding the card at the point of sale or redemption.
REWARD CARD points cannot be redeemed jointly or severally with any other card not in the name of or completed by the customer claiming the redemption value.
Completed Cards that are presented to redeem a £10 credit shall be retained by Broughs Butchers at the point of redemption.
Customer data held by Broughs Butchers will not be shared with any other party.
Broughs Butchers may use a customer's registration data to contact them for marketing and information purposes.
The Broughs Butchers REWARD CARD remains the property of Broughs Butchers who reserve the right to terminate the scheme at any time.
The redemption value of each stamp is .001p
Customers may share their REWARD CARD with friends and family. Any person presenting the Card can ask to have the value of their purchase(s) and additional reward stamps added to the card they are holding – they may also redeem the qualifying credit due on a card they are holding. We will not ask for identification from the person presenting the card
These Terms & Conditions of use are not exhaustive, Broughs Butchers reserve the right to refuse redemption of the card value where they suspect these Terms & Conditions of use have not been complied with.
---
Broughs Butchers - Loyalty Cards
Plastic Reward Cards are to be withdrawn from 1st September 2020
Broughs Plastic Reward Cards are being replaced with our new paper based LOYALTY CARD from 1st September 2020.
Customers who have partially completed Loyalty Cards can have the value any stamps displayed on their cards allocated to their new REWARD CARD on a £1 per point rate of exchange and rounded up to the next £ increment.